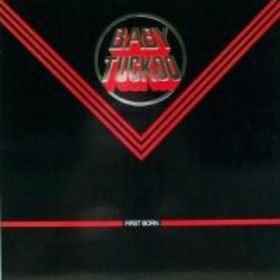 Uma banda de Hard Rock que varia muito.A.O.R, Heavy Metal e o clássico estilo NWOBHM! Não afirmo que sejam os melhores nos estilos citados,mas é essa mistura que faz com que a banda seja muito boa. Baby Tuckoo lançou alguns grandes discos na sua curta carreira. Os briânicos apostam no Hard Rock californiano,popular subgênero comercial, porém com eles, é totalmente diferente. Me pergunto como bandas como essa conseguem ser inovadoras e desconhecidas ao mesmo tempo. Esse primeiro álbum tem grandes músicas, perfeito para quem não conhece o estilo A.O.R/NWOBHM.
Destaco:What's It Worth,Holdin' On e Mony Mony (cover Tommy James and The Shondells).
Track List:
01.Hot Wheels
02.Things(Aint Always What They Seem)
3. What's It Worth
4. Holdin' On
5. Mony Mony
6. A.W.O.L
7. Baby Rockin'Tonight
8. Broken Heart
9. Sweet Rock'N' Roll
Line Up:
Neil Saxton Lead Guitar
Paul Smith Bass
Rob Armitage Vocals
Andy Barrott Guitar-Keyboards
Tony Surgden Drums
Holdin' On
Uma das bandas que estavam fazendo algo similar ao Whitesnake e Def Leppard e que infelizmente não foram reconhecidos. Um pouco de cada banda popular nos anos '80; agradará a todos.
Doanload: