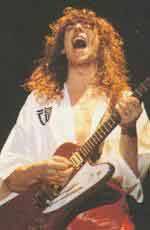 Dennis Stratton (Londres, 9 de outubro de 1954)
Está aí mais uma figura importantíssima no desenvolvimento da NWOBHM, Dennis Stratton. Para os que não sabem, foi um dos fundadores, juntamente com Steve Harris, do Iron Maiden. Tocou também em outras bandas, como: Lionheart, uma banda de A.O.R/Heavy Metal que lançou um único play em '82 chamado Hot Tonight (faixa homônima que foi lançado como single), Dennis permaneceu na banda até '86; Praying Mantis, uma banda de linha musical similar ao Lionheart, porém Dennis se manteve na banda desde '90, ele está no Praying Mantis desde a gravação de um álbum que,julgo ser um dos melhores Ao Vivo do Metal, Live At Last.
Além dos conjuntos citados, posso citar também Remus Down Boulevard, banda essa que o homenageado integrou em '75, antes mesmo do Iron Maiden;e o Wedgewood, mas não tenho informação alguma desta última.
Segue algumas contribuições musicais para o Iron Maden. Além de estar nas primeiras gravações como o video clip Women In Uniform e outros singles entre '79-'80, fica em anexo três destruidoras:
Iron Maiden '79 Invasion Recorded At Soundhouse Tapes
Aposto que poucas pessoas sabem que música é a que vem a seguir, na minha opnião, essa é uma das melhores da fase inicial do Iron Maiden, um pena que fora só gravada no EP Running Free. Em todo caso, ouçam, raridade!
Iron Maiden '80 Burning Ambition Recorded At Running Free EP
Iron Maiden '80 Running Free Recorded At Iron Maiden Album
Uma grande música que marca a passagem do Dennis no Lionheart é a seguinte:
Lionheart '85 Hot Tonight Recorded At Heartbeat Radio
Agora vamos para o Praying Mantis na década de '90 com o ingresso deste grande guitarrista. Em minha humilde opnião, considero essa o ápice da sua carreira, com a fusão de Hard/Heavy/Progressivo e A.O.R. Basta ouvir algumas das grandes versões Ao Vivo e entenderemos melhor. Perceba que Clive Burr, outro ex-Iron Maiden está na banda também.
Praying Mantis '95 Captured City Recorded At Captured City Live In Tokyo City
Praying Mantis '95 A Cry For A New World Recorded At Captured City Live In Tokyo City
Praying Mantis '95 Children Of The Earth Recorded At Captured City Live In Tokyo City
Praying Mantis '95 Can't You See The Angels Recorded At Captured City Live In Tokyo City
Praying Mantis '95 Turn The Tables Recorded At Captured City Live In Tokyo City
Um pouco da gravação Di'Anno-Stratton em '95, experiência única e avivadora que mostra dois grandes músicos, e não, dois ex-Iron Maiden.
Paul Di'Anno & Dennis Stratton '95 Lucky To Lose Recorded At The Original Iron Men
Somando a outras participações e muitas excelentes músicas lançadas pelo Praying Mantis até hoje, percebemos o quão importante é essa figura, esse músico que, sem dúvidas, é um tremendo Guitar Hero! Em sua carreira enfrentou altos e baixos como qualquer outro, porém, enfim, mostra seu valor. E isso não deve ser nem metade do trabalho do Dennis Stratton, somando outras participações, gravações como o Paul Di'Anno & Dennis Stratton 2 etc.
Concluo essa sessão Guitar Hero por hoje, qualquer dia em que eu tiver tempo e paciência farei outras postagens similares, quase dinâmicas e informativas.